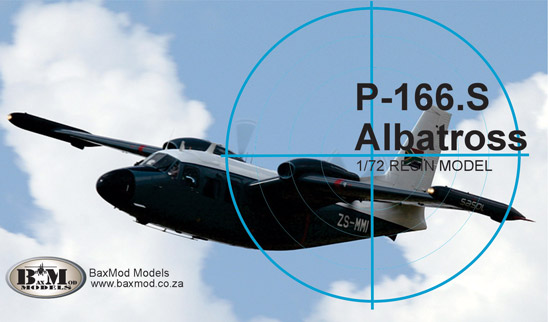 The long awaited Albatross 1/72 scale model is ready. (To Order)
24 models have been casted. The model will retail at R650 each (excl. shipping)
The 1st batch is almost sold out due to pre-orders. 

The model comes with Resin parts, clear vac-form windows, spin-casted undercarriage and MavDecal SAAF decals.
The instructions are done, but not really needed as the model is very easy to build.

I would like to thank Hobbiesonline for the 2 "out of production" kits that were donated as reference and base kits for the build. I also want to thank Zane from MavDecals for the research and input during the build.

The model is based on two kits that were available at some stage. Most of the parts were modified. Windows and access doors were re positioned as a result of modifications done to the donor kits.
I have yet to finish my model, but all parts fits nicely. I only need to finish the paint job and add the needed aerials.

Pictures of the model will be provided as soon as I have completed the model.
The display model is 160mm long.  The display model comes painted and therefore is not in kit form.
This is a limited run and can only be ordered via direct order.
---
BaxMod is an established scale modelling company. The company was established more than 15 years ago and has an excellent record for meeting the requirements and timelines as stipulated by our clients.
BaxMod has established itself in the advertising, film, development , manufacturing and training sectors throughout South Africa. BaxMod also produces a range of Military model kits, specialising in South African Military vehicles and weaponry.
The range of model available are all interior detailed. The range of models are perfectly detailed and BaxMod enhances and extends the range every year as to ensure the best possible product in a very difficult and demanding marketing environment.
BaxMod utilizes the best available technologies to produce perfectly scaled models. These technologies include resin casting, silicon moulds, CNC router, 3D printing, Laser cutting, Photo-Etching and engraving.